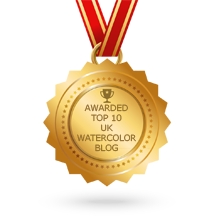 What a wonderful surprise! This week I opened an email to read that my blog has been selected as one of the top ten UK watercolour blogs. What thrilling news considering there are so many wonderful blogs on art to read if we only had time to enjoy them all.
I am so very grateful for being given this award and wanted to share my news as soon as possible but this week has been incredibly busy. Busier than usual but I will share why in another blog post.
For now I wish to thank everyone involved with selecting my blog for this award and I hope I don't let you down by not sharing as many fascinating posts as possible from here in!
Here is a link to the other winners, all wonderful and worth checking out!
*******************